Yamaha P7000S (Amplifier)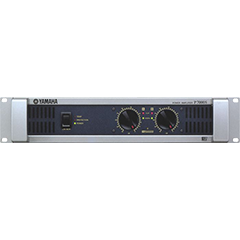 Price
£16 / day
£48 / week
Overview
At 1900w of output at 8ohms of bridged mono operation, the Yamaha P7000S boasts a great deal of power. At such a competitive hire price of £16 per day, you really cannot go wrong with this amplifier.
The Yamaha P7000S features a variety of connections, including XLR, ¼ inch jack TRS inputs, neutrik speakon, jack plug and five-way binding post outputs, making the amplifier is bound to suit your needs whatever your application. It's extremely efficient, too; its EEEngine allows for the amplifiers awesome power whilst being energy-saving. Other features include sweepable high and low pass filters, a 2U chassis and cooling fans that can be configured to several speeds.
With it's rugged and durable build, the Yamaha P7000S comes ready for the road. So whether you're planning a roadshow or tour, hire the Yamaha P7000S today for all your amplification needs.
– Massive power with efficiency, owed to the EEEngine –

– 2 channels @ 950w/4ohm
 – 2 channels @ 700w/8ohm
 – 1 channel @ 1900w/8 ohm bridged mono

– Transportable and road-ready due to strong, yet lightweight chassis
– Various options of connectivity

– XLR
– ¼ inch jack TRS inputs
– Neutrik Speakon
– Jack plug
 – Five-way binding post outputs
related items