Sony NX5 Camcorder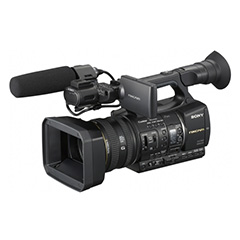 Price
£160 / day
£480 / week
Overview
The NX5 was Sony's first professional AVCHD camcorder. This user-friendly, reliable and featured-packed piece of kit redefined the product class – it was the first to feature a built in GPS locator, high quality Linear PCM audio recording and new Active SteadyShot stabilisation technology.
The NX5 records fantastic images, providing excellent resolution, colour and contrast. It's also very lightweight.
The camera's outstanding low-light sensitivity is one of its most attractive features, which makes it ideal for filming expos in dimly lit conference halls and church weddings on overcast days.
Sony's exclusive High-performance G. Lens
Natural-touch Lens Operation
Three 1/3 Exmor™ CMOS Sensors with ClearVid array
Exmor ™Technology Noise Reduction System
ClearVid Array for Higher Sensitivity and Resolution
AVCHD – Ideal for Memory Recording
Relay Record with Dual Memory Slots
Hybrid Recording with Optional Flash Memory Unit
Content Management Utility Software
MPEG-2 for Standard Definition Recording
Loss-less Audio Recording Capability
Active SteadyShot
Built-in GPS
XtraFine™ LCD Touch Panel
Easy Operation with Touch Panel and Buttons
XtraFine™ Electronic View Finder
Multiple Interfaces
related items