Electro-Voice CP3000S (Amplifier)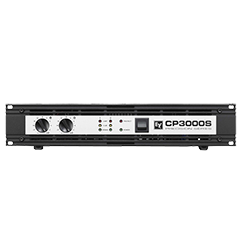 Price
£24 / day
£72 / week
Overview
Electro-Voice CP3000S (Amplifier)
The CP3000S power amplifier is built with Electro-Voice's high-efficiency Class-H design and outstanding dynamic headroom. With its robust and lightweight build, it makes it perfect for those more road-heavy shows. If you're planning on heading out for a particularly demanding tours anytime soon, then the Electro-Voice CP3000S power amplifier is definitely for you.
The CP3000S comes equipped with 2 channels, each having an outstanding 1600W of power. XLR pass-through input connections are present as well as a simple connection to bi-amped loudspeakers. A switch mode power supply and in-built dynamic limiters are also present on this power amplifier, making it a truly intelligent piece of equipment.
To counteract the CP3000S' sheer power, the amplifier comes completely protected from a range of scenarios. Thermal, overload and shorting protections are featured, as well as HF, DC, back-EMF and inrush current protections, giving you complete piece of mind during any live show.
– Class-H design
– Dynamic headroom
– Lightweight and robust design
– 3200W of power (1600w/channel)
– Input connections: XLR pass-through
– Simple connection to bi-amped loudspeakers
– Switch mode power supply
– Dynamic limiters
– Thermal, shorts, overload, DC, HF, back-EMF & inrush current protection
– In-built 3-stage, front-to-back cooling fans
related items