Electro-Voice Dx46 (Audio System Processor)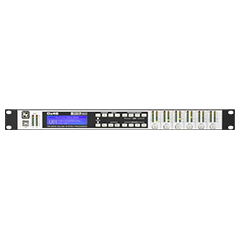 Price
£32 / day
£96 / week
Overview
Looking for sound system processing/audio crossover equipment? Try the Dx46 from Electro-Voice. Built in a rack-mounted form, this sound system processor is a brilliant way of achieving 3 different frequency band outputs to your amplifiers and gaining true control of your live sound.
The Electro-Voice Dx46 is packed full of useful features, including FIR-Drive loudspeaker optimisation and analogue & AES/EBU inputs. For a more comprehensive list of features from the Dx46, click the 'features' tab above.
When hiring the Electro-Voice Dx46 from Stage Connections, we recommend downloading the IRIS-Net for complete control, monitoring and supervision of your live sound.
Electro-Voice Dx46 (Sound System Processor)
Overview
Features
Additional Specifications
– Compatible with IRIS-Net software
– Speaker optimization with FIR-Drive technology
– Analogue & AES/EBU inputs
– Switchable -6dB pre-A/D converter pad
– 24-bit AD/DA conversion
– 48-bit filter algorithms
– Dynamic range of 115dB
– Compatible with USB and Ethernet
– EQ & delay sections
– Contact closure inputs: 5
related items