Let's kick-start Christmas.
Frosty nights, glinting outdoor lights, tinsel-covered trees and stockings filled for all to see. Sounds familiar, right?
Stage Connections are eagerly gearing up for the festive season. Grab your gloves, gather your family and head outside for some unforgettable event experiences this year.
Join us to experience the Nuthall Lights switch on.
To start things off with a bang, this November we will be supporting a very special local event, the Nuthall lights switch on, an enchanting Christmas Lights display, held at the suburban street, Laurel Crescent, Nuthall, which today proudly boasts thousands of lights, all from one magical house on the street!
Each year, the owners of this property in Nuthall go to great lengths, creating a truly magical experience for people to visit, throughout the festive period. This local, family ran event is well known and well-loved by many in the community, and now symbolises the start of the festive season.
Sharing the essence of Christmas with the community is what this joyful event is all about, and what's even more amazing is that all their efforts are to raise money for the charities 'When you wish upon a star' and 'Hayward House Hospice'.
Share your support for this local event that is making a real difference and join us on Sunday 19th November at 6 pm, as we help switch on the lights!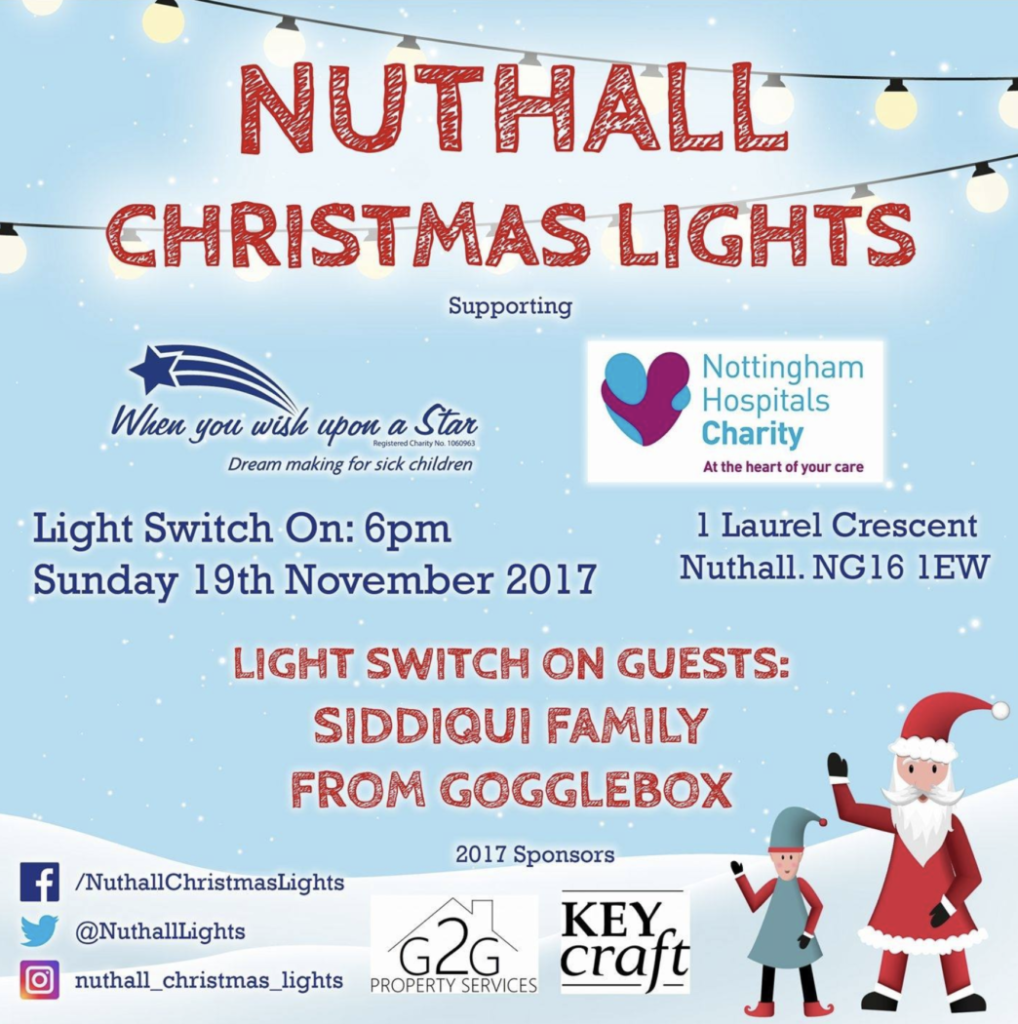 The Nuthall Lights
The Nuthall Lights were originally started 14 years ago by founder Tony, who had then been inspired by another Christmas house decorated with lights. Back then Tonys light display was made up of just six lights, which Tony continued to add to over the years.
However, it was when Tony's father in law passed away a few years later that he decided to do it for charity. The event now boasts thousands of lights and raises money every year from gathering spectators who share their support. Tonys dedication is making a real difference to the lives of many.
"We are here every night come wind or rain, inviting people to have a look at our garden up until New Year." Tony, founder.
Rumour has it, the 'Gogglebox' favourite family, the Siddiqui's will be turning the lights on this year.
Since 2004, the Nuthall Lights has raised a staggering £89,000 for charity.
We are always so impressed with the lengths this family go to. The local light display is different every year and takes approximately 2 months to set up, making it a truly admirable effort not to be missed.
We want to give back to our community
To show our support this year, we are providing the family members with projectors and a PA system for the switching on of the lights.
Stage Connections is a technical events production company based in Nottingham. We specialise in Corporate events, specialist lighting, and projection mapping.
We have carefully selected the very best tools
This year we are donating to this heartwarming event from our range of specialist equipment. We are proud to be involved in the delivery of the Nuthall Christmas Lights switch on, a local, family run event, that exists entirely to raise money for charity, by a family that continues to do amazing things that inspire us all every year.
This local event is making a big difference to peoples lives. We are really pleased that we can offer our support, by donating some of our specialist equipment.
(spoiler alert!)
For the Nuthall Christmas Lights Switch on, we will be using;
Panasonic PT-RZ970 laser projectors to project the countdown onto the house, Prolighte Wireless uplighters – to uplight the house for dynamic visibility, and Chauvet Rogue R2 Spot to create beams onto a night sky.
To find out if Stage Connections can help with your next event, contact us.
Follow the journey on Facebook as we gear up to reveal the big switch on and help us spread the word throughout the community. We really hope you can join us.